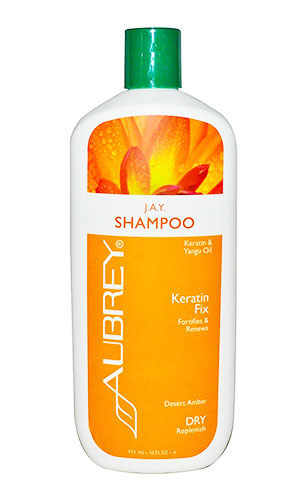 본문의 링크는 오른쪽 본문 링크 박스의 해당 링크를 클릭하세요.
건조하고 손상된 모발을 다시 생기있고 탄력있게 해주어 모발이 건강하고 잘 부러지지 않게 해주고 부드럽고 생기있게 해준다. Aubrey사의 베스트셀러의 하나이므로 선택하였다. 컨디셔너는 건성모발용이나 모든모발용 GPB 컨디셔너를 사용하여도 좋다.

Aubrey사는 미국 Florida 주에 위치한 40여년 역사의  자연화장품제조회사로 천연방부제만 사용하며 미국정부가 인정한 유기농 제품 생산기업입니다. Aubrey사의 제품은 최고품질에 비해 최저가의 철학을 가진 존경스러운 회사입니다. 'Aubrey사의 제품에 대하여'를 보시려면 여기를 클릭하세요.

내용물:
Deionized Water, Coconut Oil-Corn Oil Soap, Hydrolyzed Soy Protein (made from organic, non-GMO soybeans), Organic Aloe Vera, Carrageenan, Organic Jojoba Oil, Yucca Root Extract, Organic Lemon Peel Oil, Essential Oil Blend (Oils of Cedar, Grapefruit, Rose-Geranium, Rosewood, Lavender, Rose, Lilac and Violet), Panthenol (Vitamin B-5), Linoleic Acid (Vitamin F), Aubrey's Preservative (Citrus Seed Extract, Vitamins A, C and E).

경험사례: 미국인들의 경험사례이므로 그들이 쓴 영어 그대로 실었습니다.

LaDonna from Corona, CA
rating: 5 Stars
comments:
LOVE, LOVE, LOVE it!!!!! I am half-black, Spanish, Irish and my hair is this weird combo of thin, frizzy, fine curls. Needless to say it was very dry and fuzzy. This shampoo has dramatically changed the texture and overall appearance of my hair for the better. I find myself completely bypassing the health and beauty aisle at my local store because now I know all I will ever use is Aubrey Organics. Thank you for these products!! I am so glad I found them!!

Georgia from Traverse City, MI
rating: 5 Stars
comments:
All around best shampoo I've ever used! Goodbye itchy, tight dry scalp, hello soft and shiny hair! I have very sensitive skin, and thick wavy hair that tends toward coarseness and dryness. This shampoo meets all my needs. I'll never buy a different shampoo again!

Sigrid Vickery from Lillian, AL
rating: 5 Stars
comments:
I love this shampoo! I have graying hair which tends to be dry, and this shampoo makes my hair look and feel smooth and soft. And the fragrance is wonderful! It has helped my itchy scalp as well, an all around plus. I use it with the GPB conditioner...both great products.

B. M. from Durham, North Carolina
rating: 5 Stars
comments:
I am a black woman with thick, long, chemical-free hair. It is curly/wavy/frizzy and tangles very easily. The JAY shampoo and the Jojoba and Aloe conditioner work wonders for my hair. When I shampoo, I focus on getting my scalp clean moreso than lathering up my hair. The shampoo gets my scalp clean without leaving it dry. I have suffered from extreme itchiness in the last few months, and that has subsided to the point of being virtually nonexistent. The conditioner is an excellent detangler. I notice that the longer I leave it in before rinsing, the more effective it is. I can practically detangle my hair with my fingers alone while the conditioner is in. I rinse with cool water and my hair is curly and shiny. This combination works so well that I have eliminated the regular use of oil as a conditioner on my scalp and hair. If you have 4a texture (those in the know) give this combination of Aubrey products a try.

<사용방법> 
잘 흔들어서 적당량을 젖은 머리에 바르고 거품이 나게 감고 필요하면 한번 더 감고 난 후 컨디셔너를 사용한다.