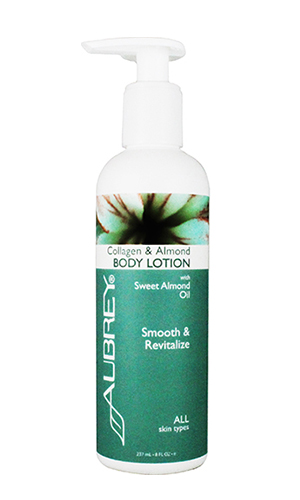 본문의 링크는 오른쪽 본문 링크 박스의 해당 링크를 클릭하세요.
수분을 채워주는 로션으로 피부를 보드랍고 촉촉하게 해주며 은은한 향이 있다. 피부에 콜라겐과 elastin 탄력섬유를 보충해주고 살구씨오일이 피부를 촉촉하게 보습해준다.

Aubrey사는 미국 Florida 주에 위치한 40여년 역사의  순수자연화장품 제조회사로 전혀 방부제를 쓰지 않으며 미국정부가 인정한 '유기농 제품 생산기업'입니다. Aubrey사의 제품은 정성을 다한 수공제품이며 최고품질에 비해 최저가의 철학을 가진 존경스러운 회사입니다. 'Aubrey사의 제품에 대하여'를 보시려면 여기를 클릭하세요.

내용물:
Aqua, cetyl alcohol (from coconut oil), alcohol denat. (38b, lavender), prunus amygdalus dulcis (sweet almond) oil*, aloe barbadensis leaf juice*, glycerin, triticum vulgare (wheat) germ oil, soluble collagen, glyceryl stereate (from vegetable oils), cetearyl alcohol (from coconut oil), leuconostoc/radish root ferment filtrate, hydrolyzed elastin, simmondsia chinensis (jojoba) seed oil*, stearic acid, oenothera biennis (evening primrose) oil*, sodium cocoyl glutamate (from coconut oil), linoleic acid (vitamin F), citrus grandis (grapefruit) seed extract, ascorbic acid (vitamin C), tocopherol (vitamin E), linolenic acid (vitamin F), natural fragrance#.

*Certified organic
#Natural isolate blend sourced from essential oils

경험사례: 미국인들의 경험사례이므로 그들이 쓴 영어 그대로 실었습니다.

Both my Mother and sister have extremely deep pregnancy scars. I thought that would be my fate as well, but not without a fight. I purchased Aubrey's Collagen and Almond because it also included elastin. I applied it from my 1st month till my last, 2x per day plus some nutritional supplements. 35yr old Mom here...NO STRECTH MARKS, NONE! Thank You Aubrey! It may be a coincidence, but I don't think so.

This is the only lotion for the face I know that works deep enough for the dryest winter days while not being even remotely greasy and absorbing into the skin fast. It's the only one I've used for 5 years now! Everyone should try it!

I have been using this lotion on my face for the last year and I must say it's AMAZING!!!! I started using it as a summer moisturizer because the Rosa Mosqueta was too heavy for summer. It works wonderfully to soften lines and leave skin perfectly balanced, not greasy. Once again I am amazed with Aubrey products.

Awesome lotion! Feels great, absorbs quickly, not too runny or thick, and you don't need too much. It's also not a greasy lotion, you don't need to wipe your hands after applying. I love the smell too! It's a soft, subtle, sweet and nutty scent. One of my husband's most frequent comments on what he loves about me is how soft my skin is. I hope to keep it that way as I age with the help of this lotion. Try this!

The best moisturizer I have ever used! My fair, sensitive skin feels and looks great after using this for product for three years. I will never go back to using other "name-brand" lotions!

<사용방법>

손과 몸 전체에 발라준다.