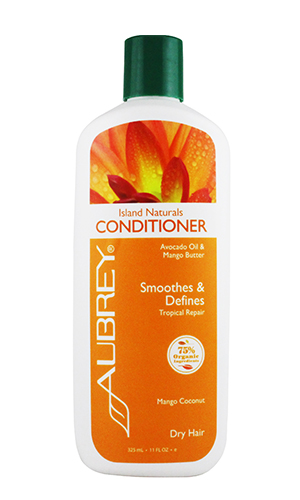 본문의 링크는 오른쪽 본문 링크 박스의 해당 링크를 클릭하세요.
건성 모발용 컨디셔너, 건조하고 거칠고 엉키고 열손상을 받고 잘 부러지는 모발을 유기농 코코넛 밀크와 알몬드 단백질이 매끈하고 윤택하게 해준다.

Aubrey사는 미국 Florida 주에 위치한 40여년 역사의  자연화장품제조회사로 천연방부제만 사용하며 미국정부가 인정한 유기농 제품 생산기업입니다. Aubrey사의 제품은 최고품질에 비해 최저가의 철학을 가진 존경스러운 회사입니다. 'Aubrey사의 제품에 대하여'를 보시려면 여기를 클릭하세요.

내용물:
Aloe barbadensis leaf juice, butyrospermum parkii(shea butter) fruit, cetyl alcohol (from coconut oil), gluceryl stearate (from vegetable oils), cetearyl alcohol (from coconut oil), leuconostoc/radish root ferment filtrate, alcohol denat (38b, lavender), glycerin, stearic acid, mangifera indica(mango) seed butter, persea gratissima(avoccado) oil, cocos nucifera(coconut) fruit extract, chenopodium quinoa seed extract, pimerita officinalis (pimento) fruit powedr(allspice), citrus grandis (grapefruit) extract, ascorbic acid (vitamin c), tocopherol (vitamin E), rosmarinus officinalis(rosemary)leaf oil, salvia officinalis (sage)oil, calendula officinalis flower extract, melissa officinalis (balm mint), leaf/flower/stem extract, chamomilla recutita (matricaria) flower extract(chamomile), humulus lupulus (hops) flower extract, foeniculum vulgare (fennel) seed extract, equisetum extract, sodium cocoyl glutamate(from coconut oil), hydroplyzed wheat protein (gluten-free), caprylic/capric triglyceride (from coconut oil),  stearyl dimonium hydroxypropyl laurylglucosides chloride (biodegradable, from coconut oil), natural fragrance

경험사례: 미국인들의 경험사례이므로 그들이 쓴 영어 그대로 실었습니다.

Laura from Boston, MA
rating: 5 Stars
comments:
This is now my favorite conditioner, hands down!!! I love how soft and detangled it makes my relaxed hair, and I looove the scent. I tell anyone who will listen about Aubrey Organics conditioners.

Teresa from Keyport,NJ
rating: 5 Stars
comments:
This was my first purchase from Aubrey and I ABSOLUTELY LOVE this conditioner and the Island Naturals shampoo. I have really curly hair that tangles easily, this conditioner keeps my hair manageable without weighing it down and it feels so soft! I've spent so much money on hair care products. I'm so happy to find a brand that actually works and also has products for your whole body. Can't wait to experience more of what Aubrey has to offer.

Leah from New Alsace, IN
rating: 5 Stars
comments:
My hair is long and dry. This is the ultimate in conditioning my hair. I will always use this as my hair is shiny, strong and soft to touch. I've never received so many compliments. Please don't ever stop making this conditioner. Thank you Aubrey for offering the BEST!!

Dagmar from Adamstown, PA
rating: 5 Stars
comments:
Island Naturals Conditioner and Shampoo are amazing. It gives my hair a natural shine and keeps it soft and manageable. At first the scent was unusual, but after the second try I began loving the earthy scent, which leaves my hair smelling fresh all day long. And the best of it is that it's all natural. With other shampoos I always felt a residue in my hair, but not with Aubrey's. It's a wonderful product!!!

<사용방법>

제일 먼저 샴푸를 한 후 물로 잘 헹구고 바로 컨디셔너를 바르고 몸을 다 씻는 동안 오래 놔두었다가 물로 헹군다. 오래 놔둘수록 매끈한 효과가 난다.