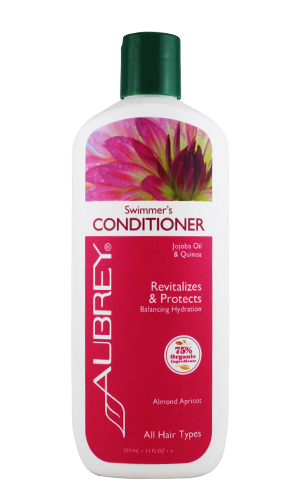 본문의 링크는 오른쪽 본문 링크 박스의 해당 링크를 클릭하세요.
수영장 물의 소독약과 바닷물의 소금기와 태양에 손상되어 뻣뻣하고 손상된 모발을 아미노산이 다시 보습해주며 엉킨 머리를 풀어주고 윤기있고 부드럽게 해준다.

Aubrey사는 미국 Florida 주에 위치한 40여년 역사의 자연화장품제조회사로 천연방부제만 사용하며 미국정부가 인정한 유기농 제품 생산기업입니다. Aubrey사의 제품은 최고품질에 비해 최저가의 철학을 가진 존경스러운 회사입니다. 'Aubrey사의 제품에 대하여'를 보시려면 여기를 클릭하세요.

내용물: Aloe barbadensis leaf juice*, cetearyl alcohol (from coconut oil),butryrospermum parkii(sheabutter), glyceryl stearate(from vegetable oils), cetearyl alcohol(from coconut oil), alcohol denat(38b, lavender), leuconostoc/radish root ferment filtrate, glycerin, stearic acid, simmondsia chinenesis (jojoba) seed oil, chenopodium quinoa seed extract, equisetum hiemale(horsetail) extractm tussilago farfara(coltsfoot)leaf extract, prunus amygdalus dulcis (sweet almond)oil, helianthus annuus(sunflower),seed oil, prunus armeniaca(apricot) kernel oil, lactobacillus eriodictyon californicum ferment extract, phospholipids, milk protein, citrus grandis (grapefruit) extract, ascorbic acid (vitamin C), tocopherol(vimta E), caprylic/capric triglyceride(from coconut oil), hydrolyzed wheat protein(gluten-free), sodium cocoyl glutamate(freom coconut oil), stearyl dimonium hydroxypropyl laurylglucosides choloride(biodegradable, from coconut oil), natural fragrance.

경험사례: 미국인들의 경험사례이므로 그들이 쓴 영어 그대로 실었습니다.

Jennifer from Norman, Oklahoma
rating: 5 Stars
comments:
I heard about your products on NaturallyCurly.com and I'm so glad I bought them. I bought this conditioner along with both the Moisturizing Jelly and B-5 Design Gel. My curls are happy. My frizz is almost nonexistent and I'm completely excited about your products. I will be trading in all my Arbonne products (which I thought were good for me until I look at the ingredients) for yours. The price is way better and they just work. Thank you for making such great products.

Heather from Gillette, WY
rating: 5 Stars
comments:
My sister and I both have long, wavy thick hair that we blow dry, iron straight and sometimes dye. When we began water aerobics together I knew our hair couldn't stand much more so I did an internet search for swimmers shampoos and conditioners. Frankly I didn't expect the Aubry Organics shampoo and conditioner to work very well so I ordered liters of another swimmers shampoo. Boy was I wrong; the shampoo has tons of suds that instantly neutralize the chlorine and the conditioner can't properly be described! I can rarely run my fingers through my wet hair in the shower, much less after I have just been swimming, but with this conditioner it's like silk and there are no tangles. The smell is amazing too! I wish I hadn't spent my money on the 2 liters of other product now!

Star Antonia Westbrook
rating: 5 Stars
comments:
My usual supplier of Aubrey Organics products had failed to stock the Island Naturals Creme Rinse (which is what I had been using for some years now)-- And so fortunately enough, I happened upon the Swimmer's Conditioner. This is now my favorite amongst Aubrey's conditioners. Even though I avoid chlorinated water upon my hair at all costs, this is still the product for me! It leaves the hair unbelievably replenished, volumized, and just-- well-- luxurious! It literally smells divine enough to be considered as a dessert to the hair, as well! And in some ways, it is!

<사용 방법> 

제일 먼저 샴푸를 한 후 물로 잘 헹구고 바로 콘디셔너를 바르고 몸을 다 씻는 동안 오래 놔두었다가 물로 헹군다. 오래 놔둘수록 매끈한 효과가 난다.