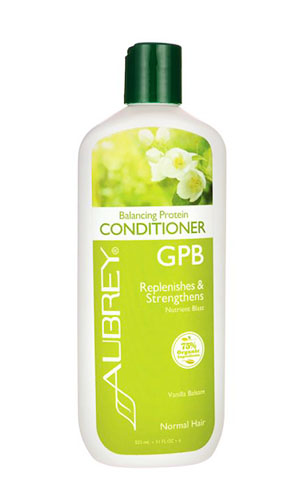 본문의 링크는 오른쪽 본문 링크 박스의 해당 링크를 클릭하세요.
모든 모발용 컨디셔너. Aubrey사의 컨디셔너 중 판매순위 1위이다. 모발 영양소가 풍부한 단백질로 만든 컨디셔너로 손상된 모발과 두피에 생기를 주며 모발섬유를 건강하게 해주고 부드럽고 윤기있게 해준다. Aubrey의 제일 인기품이다.

Aubrey사는 미국 Florida 주에 위치한 40여년 역사의  자연화장품제조회사로 천연방부제만 사용하며 미국정부가 인정한 유기농 제품 생산기업입니다. Aubrey사의 제품은 최고품질에 비해 최저가의 철학을 가진 존경스러운 회사입니다. 'Aubrey사의 제품에 대하여'를 보시려면 여기를 클릭하세요.

내용물:
Aloe barbadensis leaf juice, butyrospermum parkii(shea butter) fruit, cetyl alcohol(from coconut oil), glyceryl stearate(from vegetable oils), cetearyl alcohol(from coconut oil), caprylic/carpic triglyceride(from coconut oil), leuconostoc/radish root ferment filtrate, alcohol denat(38b, lavender), glycerin, milk protein, lactobacillus eriodictyon californicum ferment extract, phospholipids, stearic hiemale (horsetail) extract, urtica dioica(nettle) extract, salvia officinalis (sage) oil, rosmarinus officinalis (rosemary)leaf oil,  sodium cocoyl glutamate(from coconut oil,), citrus grandis (grapefruit) extract, ascorbic acid (vitamin c), hydrolyzed wheat protien (gluten-free), stearyl dimonium hydroxypropyl laurylglucosides chloride(biodegradable, from coconut oil), natural fragrance

<사용후기>

아래는 미국인들의 경험사례이므로 그들이 쓴 영어 그대로 실었습니다.

Alison from Nashville, TN
rating: 5 Stars
comments:
This is my favorite conditioner so far--although this is only the third I've tried. It is a little more of a hassle than the normal conditioners, since it's more of a special hair treatment, but it's worth it. I like the smell a lot, it leaves my hair super soft, and the conditioner itself has a thicker consistency than some of the others which makes it easier to apply to your hair. I can't stop buying Aubrey Organics! I want to try them all!! Thanks for another great product!

Kindra P. from Des Plaines, IL
rating: 5 Stars
comments:
This is by far the best conditioner I have ever used. I just recently (2 months ago) stopped using products with synthetic ingredients and I don't think that I'll ever go back after using Aubrey products! My hair is naturally curly and I needed a conditioner that does everything I need and more. I highly recommend this product to those who are transitioning from chemical to natural and for those who have wavy/curly hair.

Lilian from Singapore
rating: 5 Stars
comments:
I am so glad to have found Aubrey products. I have thick, coarse and long hair. It's not easy to 'control' and now I am using GPB for smooth, shining and great smelling hair. Also in the bathroom are Rosa Mosqueta, Egyptian Henna, Calaguala - shampoos and conditioners, Lux. Camomile and Blue Camomile shampoos. Everything smells so great that I sometimes use the shampoos as shower gels. Thank you Aubrey for great products and I really enjoy them !!!!P.S. your products deserve more than 5 stars!!!!!!!

<사용방법>

제일 먼저 샴푸를 한 후 물로 잘 헹구고 바로 컨디셔너를 바르고 몸을 다 씻는 동안 오래 놔두었다가 물로 헹군다. 오래 놔둘수록 매끈한 효과가 난다.