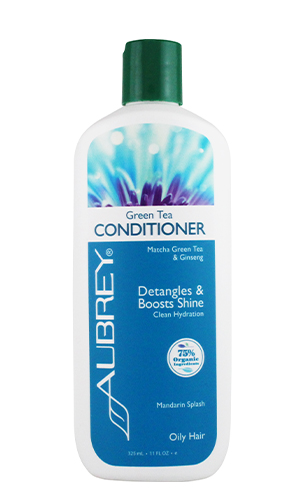 본문의 링크는 오른쪽 본문 링크 박스의 해당 링크를 클릭하세요.
지성 모발용 컨디셔너. 엉킨 모발도 풀어주면서 영양소도 주고 보습작용도 하여 너무 건조하지 않고 윤기나고 건강한 모발로 해준다.

Aubrey사는 미국 Florida 주에 위치한 40여년 역사의  자연화장품제조회사로 천연방부제만 사용하며 미국정부가 인정한 유기농 제품 생산기업입니다. Aubrey사의 제품은 최고품질에 비해 최저가의 철학을 가진 존경스러운 회사입니다. 'Aubrey사의 제품에 대하여'를 보시려면 여기를 클릭하세요.

내용물:
Aloe barbadensis leaf juice, cetyl alcohol (from coconut oil), alcohol denat (38b, lavender), glyceryl stereate (freom vegetable oils), cetearyl alcohol )from coconut oil), butyrospermum parkii (shea butter), fruit leuconostoc/ radish root ferment filtrate, stearic acid, glycerin, camellia sinensis (Matcha green tea) powder, panax ginseng root extract, simmondsia chinensis (jojoba) seed oil, prunus amygdalus dulcis (sweet almond)oil, sodium cocoyl glutamate (from coconut oil), hydrolyzed wheat protein (gluten-free), citrus grandis (grapefruit) extract, ascorbic acid (vitamin c), avena sativa (oat) straw extract(gluten-free), uritca dioica(nettle) leaf, hamamelis virginiana(witch hazel)extract, chamomilla recutita (matricaria) flowers (chamomile), calendula officinalis flowers, lavandula angustifolia (lavender) flowers, mentha piperita (peppermint) leaf, tussilago farfara(coltsfoot)leaf, citrus limonum(lemon)peel oil, caprylic/capric triglicerides (from coconuit oil), stearyl dimonium hydroxypropyl laurylglucosides chloride(biodegradable, from coconut oil)

Q : 오늘 샴푸 구매했습니다. 천연성분이다보니 궁금한게 있습니다. 샴푸는 두피에 닿아도 되나요?
A : 닿아도 됩니다.

경험사례: 미국인들의 경험사례이므로 그들이 쓴 영어 그대로 실었습니다.

jane from ca
rating: 4 Stars
comments:
I liked this because it was quick and easy to use. I only needed to use a little bit (remember to shake first) and it instantly detangled my hair. My hair felt clean and lightweight afterward. I much prefer a 'runny rinse' to a clumpy conditioner.

Courtney Thomas from Sacramento,CA
rating: 5 Stars
comments:
I love this stuff because it detangled my hair right away even after not having a relaxer touch up for 6 weeks!!! I am African American and the only chemical in my hair is a relaxer that I get every 6 to 7 weeks. But my hair is a little frail and gets dry -- and this rinse detangles my hair really well because there was no hair left in my comb!! I will also start using the J.A.Y. shampoo and conditioner for dry damaged hair along this cream rinse. I no longer use shampoos or conditioners that cost $20 or more per bottle and have crappy ingredients in them and so should every one else!! To African Americans: I no longer use hair oil on my scalp because it clogs the pores and using the J.A.Y. conditioner as a deep conditioner along with the 100% Jojoba oil as a hot oil treatment will be enough moisture for your scalp!! I love Aubrey products, they are all natural and great for my hair and scalp.

Alison from Nasvhille, TN
rating: 4 Stars
comments:
I gave this one 4 stars just because I've only used it about 3 times, and I've used about half the bottle. It's also fairly thin (hence the name "rinse," I suppose), which makes it a little hard to keep in your hand. The scent is light & pleasant, and I always use it after the Green Tea Treatment Shampoo. I'm not sure which one is more responsible, but after using these products, my scalp feels very nice and does not itch, hurt, or flake like it will with commerical, non-natural (though high-end) products. My hair also ends up being soft, silky, and shiny. This is the first conditioner I've tried from Aubrey, and I've already bought another. I can't wait to try more of Aubrey's line!

Piotr from Toronto, Canada
rating: 5 Stars
comments:
Another great Aubrey Organics product! Makes my hair very soft! Best conditioner I've ever used. Does not leave an oily residue! Smells great.

Olivia Wang from Los Altos, CA
rating: 5 Stars
comments:
I love to use the Green Tea Shampoo and Herbal Cream Rinse set. People always give me good comments about what I have used on my hair because it looks very smooth and bouncy. The only recommendation is shake the Herbal Cream Rinse bottle well each time you use it, otherwise, you will have watery rinse at the beginning and muddy cream sticking to the bottle at the end.

Jennifer from Mesa, AZ
rating: 5 Stars
comments:
Excellent product. Does not way down or make hair look limp and you don't need to put a lot in your hair. It is a light but very effective conditioning rinse. I like it so much, i ordered another bottle. It has a pleasant aroma also. Aubrey should make it in 16 ounce bottles so it'll last longer.

<사용방법>

제일 먼저 샴푸를 한 후 물로 잘 헹구고 바로 컨디셔너를 바르고 몸을 다 씻는 동안 오래 놔두었다가 물로 헹군다. 오래 놔둘수록 매끈한 효과가 난다.